Best ATV Windshield: For Preventing Any Kind of Hazard
When you're driving an all-terrain vehicle (ATV), it's important to have a windshield to protect you from any kind of hazard. The best ATV windshield will keep you safe while riding, and it can also prevent dust and dirt from getting into your face. There are a few different types of ATV windshields available, so it's important to choose the right one for your needs.
No matter what type of ATV windshield you choose, it's important to make sure that it meets your specific needs. There are a few things to keep in mind when shopping for an best ATV windshield, including size, material, and installation. By taking the time to find the right windshield for your ATV, you can ride with confidence knowing that you're protected from any potential hazards.
5 Best ATV Windshield Review Guide
You must select the appropriate windshield for yourself according to the features, style, ATV compatibility, and other economic concerns that you have in mind. Find the top ATV windshields for sale in this section, along with important information to assist you to choose the ideal windshield for riding over challenging terrain.
1) SuperATV Heavy Duty Clear Full Windshield for 2008+ Polaris RZR 800 
Trail conditions might become unmanageable if it's too chilly or wet. Because of this, Polaris RZR's Scratch Resistant Full Universal ATV Windshield is intended for your comfort and protection. Trail running may be a miserable experience if you don't have a shield to protect you from the rain and dirt. These windshields provide unbreakable protection and strength that much surpasses that of the original equipment manufacturer's offering. Every one of these windshields has been carefully constructed to properly fit the shape of your cage and hood. Full-length rubber bulb seals ensure a secure fit and eliminate rattles. Heavy-duty clamps secure and simplify the installation of your windshield. You're ready to go after applying the seal and clamping the windscreen to your cage.
SuperATV Heavy Duty Clear Full Windshield for 2008+ Polaris RZR 800 / S 800 / 4 800 / XP 900 / XP 4 900 / 570 / 570 S (See Fitment) | 1/4" Standard...
Fits: 2008-2014 Polaris RZR 800 | 2009-2014 Polaris RZR S 800 | 2010-2014 Polaris RZR 4 800 | 2011-2014 Polaris RZR XP 900 | 2012-2014 Polaris RZR XP 4 900 | 2012+ Polaris RZR 570 | 2017 Polaris RZR 570 S | Can be used with most soft or hard tops
Virtually Indestructible Material: Our Polaris RZR Full Windshield is Made of 1/4 inch thick Polycarbonate that is shatter resistant and designed for off-roading | 250 times stronger than glass and 25 times stronger than acrylic | Made in the USA! | Protects against debris and the elements | Made in the USA!
Expert Made: We know a thing or two about windshields because we've designed, manufactured, and shipped over 200,000 of them | Our windshields are used every day all around the world, so if you want the most trusted, most reliable UTV Windshield you can get for your Polaris RZR, you want SuperATV.
Windshields made of 1/4″ polycarbonate are 250 times more powerful than glass and 25 times tougher than acrylic. With such an excellent level of toughness and shock resistance, you can go strong around the trails without fear of your windshield cracking in the event of a rollover.
2) XMT-MOTO Large ATV Windshield
This high-quality big fairing has a magnificent appearance while also providing an exceptional level of wind, insect, and rock protection for your vehicle. It encompasses the handgrips, the facial area, and the torso region. The hardware is entirely adjustable in terms of height and angle, and it comes with components with both 7/8″ and 1″ handlebars, depending on your preference. Plastic is used for the substance, and the color is clear with a black bottom. Installation is incredibly easy and takes very little time. You don't need any tools, and it's a one-person job. All you do is remove the four screws on the bottom, attach the fairing to your handlebars, and put the screws back in.
XMT-MOTO Large ATV Windshield fits for Harley Davidson all models 1970-2013(To fit Polaris, Arctic Cat, Honda Yamaha, Can-Am and Kawasaki ATVs)
This high-quality large fairing provides stunning good looks while adding an excellent degree of wind, bugs, and rock protection.
Covers hand grips, face area, and torso area.
Hardware is fully adjustable for height and angle, includes hardware for both 7/8" and 1" handlebars.
To fits for Polaris, Arctic Cat, Honda Yamaha, Can-Am and Kawasaki ATVs. To fit Harley Davidson all models 1970-2013 ( except Dyna Wide Glide 2006-2008, Fat Boy 2007-2011, Screaming Eagle 2008-2011) Adjustable mounting works with most ATV handlebar configurations
Package included : 1 x Windshield
This XMT-MOTO Large ATV Windshield is a great windshield if you're looking for extremely durable, enhanced wind and bug protection. It's easy to install and fits most ATVs, making it a versatile option.
3) Black Boar ATV Wraparound Windshield
This Black Boar ATV windscreen is an excellent method to keep yourself protected from the elements when riding your ATV in the great outdoors. As you ride, the windscreen protects you from the elements such as wind, rain, sleet, muck, and insects. This windscreen is designed to suit most ATV models that have handlebars. With the accompanying mounting hardware, it's simple to mount right to the handlebars of your ATV and ride away. The wrap-around design protects your face, body, and hands from everything Mother Nature decides to hurl at you while you're on the bike. In colder climates, the windshield serves as an excellent source of extra heat since it shields the driver and passengers from the outdoors. Made of durable clear acrylic for optimum visibility, this windshield will last for a long time.
Using the included mounting hardware, the Black Boar ATV Windshield can be mounted straight to the handlebars of most ATVs in seconds. Having a clear view of the landscape around you while riding your ATV is a benefit that you may enjoy.
4) PowerMadd 24572 Protek Windshield for ATV
The new Cobra ProTEK Universal ATV Windshield has an edgy appearance that goes well with the more modern aesthetics of ATVs. Increased strength is provided by the use of ribs and curves on the ProTEK windscreen. The ProTEK is available in two different mounting configurations: regular and fast release. If your ATV is facing forward, unlike other models, you do not need to replace the Cobra ProTEK shield in order to tow it behind another vehicle. The ProTEK is available with or without a cutout for the headlight, also with black graphics for a universal fit.
These high-quality optical-grade polycarbonate ATV shields have scratch-resistant surfaces and distortion-free optics, and they are available in a variety of colors. These are the approximate shield sizes: 20 inches in height by 36 inches in breadth.
5) SuperATV Scratch Resistant Flip Windshield
Every component of this windshield is designed for long-term durability and performance. Full-length foam gaskets and bulbs seal to guarantee that your windshield remains firmly closed even on the bumpiest of road trips or long car rides. You will have a snug fit that will not slip or rattle, thanks to the sturdy clamp and metal cross-brace on it. The gas struts ensure that your windshield does not close abruptly, as well as the simple latch secures securely to withstand every bump and mud hole you encounter on your journey through the wilderness. Hard coating windshields on both sides will provide the utmost strength. Our exclusive XR Optic Hard Coating provides superior abrasion resistance and Uv protection than anything else available on the market. This means you'll be protected from things like tree limbs, pebbles, hen tails, and the cleaning cloth you're using.
SuperATV Scratch Resistant Flip Windshield for 2016+ Kawasaki Teryx 800 / Teryx 4 800 / 2021+ Teryx S / Teryx 4 S | 1/4" Thick Polycarbonate that is 25x...
Fits: 2016+ Kawasaki Teryx 800 | 2016+ Kawasaki Teryx 4 800 | 2021+ Kawasaki Teryx S | 2021+ Kawsaki Teryx 4 S | See Product Description For Complete Fitment List | Can be used with most soft or hard tops | 100% Fitment Guaranteed
Great For All Weather: Want a Windshield That Works In All Conditions? Our 3-In-1 Flip-Up Design Allows You To Choose From Closed, Vented, Or Open Positions To Ride Comfortably In All-Weather Without Having To Leave Your Seat
Virtually Indestructible Material: Made Of 1/4 Inch Thick Scratch-Resistant Polycarbonate That Is Shatter Resistant And Designed For Off-Roading | 250 Times Stronger Than Glass & 25 Times Stronger Than Acrylic | Made In The Usa!
Expert Made In Usa: We Know A Thing Or Two About Windshields Because We'Ve Designed, Manufactured, And Shipped Over 200,000 Of Them. Our Windshields Are Used Every Day All Around The World, So If You Want The Most Trusted, Most Reliable Windshield You Can Get For Your Kawasaki Teryx 800, You Want Superatv.
100% Fit Guaranteed: You Can Rest Easy Knowing Your Windshield For Kawasaki Teryx Will Fit Perfectly. Superatv Is A Family-Owned Business And We Take Product Quality Seriously. Superatv Windshields Are Made In Our Half-Million Square Foot Manufacturing/Warehouse Facility In Madison, Indiana. Order Your Kawasaki Teryx 4 Windshield Today!
SuperATV provides the highest-quality product currently on the marketplace and backs it up with the greatest warranty in the business. Each windshield is covered by a one-year guarantee, which ensures that the windshield is free of manufacturer's faults when purchased by the original purchaser.
Buying Guide: What to Check for When Purchasing an ATV Windshield
1) Materials for construction:
Even while it appears as if there are an infinite number of various types of windshield materials, in reality, there are only three: polycarbonate, acrylic, and glass.
Polycarbonate Windshields:
Polycarbonate is comparable to plastics in that it is both strong and flexible, although it is a little softer. A polycarbonate placed between two sheets of glass is used to make bullet-resistant glass (that is actually polycarbonate placed between two sheets of glass) and the windshields of fighter planes. In comparison to glass windshields, polycarbonate is significantly better durable from contact, and it can withstand the punishment of white-knuckled circuits around a race track. The disadvantage of this is that it leaves markings much more easily than before.
This is a clear plastic that is used in the making of products such as signboards and bullet-resistant windows. It can be found in different strengths, and it is frequently used as an alternative to glass because it is cheaper and shatterproof. When it comes to windshields, acrylic has the advantage of being much lighter than glass but with similar optical properties. Acrylic can scratch easily, however, which limits its usefulness.
For most applications, this is the best windshield material you can get. It's very durable, doesn't scratch easily, offers good clarity, and transmits light well. The main downside of glass is that it shatters when hit by something hard enough, but modern windshields are laminated to help prevent this.
2) Is it fixed or removable?
An easy way to improve the comfort of your ride is to get a windshield, and there are two main types: fixed and removable. A fixed windshield is, as the name suggests, permanently attached to the ATV, usually using screws or bolts. This offers the advantage of being very sturdy, so you don't have to worry about it vibrating loose or falling off. The downside is that it can be difficult to clean and you may have to remove it entirely to do repairs or maintenance on your ATV. A removable windshield, on the other hand, can be taken off quickly and easily, making it much more convenient for cleaning and maintenance. However, they are not as sturdy as fixed windshields and may vibrate loose over time.
3) Visibility:
One of the most important things to consider when choosing an ATV windshield is visibility. After all, if you can't see where you're going, then what's the point? The best windshields offer good visibility while still providing some protection from the elements.
Windshield Glass- 86 percent VLT:
Glass is a decent indicator for clarity since almost everyone has peered through a piece of safety glass. Consider what the world appears like when you're driving in your automobile. The majority of ordinary automobile windshields manufactured of auto glass are just around 86 percent transparent, which means that they only transmit about 86 percent of the visible light that passes through them.
Polycarbonate Windshield- 89 percent VLT:
Even though polycarbonate seems somewhat darker than acrylic because it transmits around 89 percent of visible light, it appears clearer than a vehicle windshield and is, therefore, more transparent.
Windshields made of acrylic- 92 percent VLT:
When it comes to clarity, acrylic outperforms the other two materials hands down, transmitting 92 percent visible light. Placed side by side, you'll note that the vision through acrylic is somewhat bright and clear than the sight through glass, which is due to the fact that more visible light is passing through.
4) Installation Simplicity:
The last thing you want is a windshield that's difficult to install. After all, if you can't get it on your ATV, then it's not going to do you much good. The best windshields are those that can be installed quickly and easily, without requiring any special tools or skills. Glass windshields are often fairly simple to install, requiring just that they be bolted or screwed into place. You will, however, need to make certain that the windscreen frame is the suitable size for your ATV before proceeding. Polycarbonate windshields are also rather simple to install. However, they may need some drilling or cutting to ensure that they are correctly installed. Acrylic windshields are the most complex to install since they sometimes necessitate the creation of unique frames. However, with the right tools and instructions, this can be a fairly easy process.
5) Keeping Up with the Speed:
Another important consideration when choosing a windshield is how well it will keep up with the speed of your ATV. After all, you don't want it to fly off at the first opportunity. The best windshields are those that are aerodynamic and able to keep up with the speed of your ATV without vibrating or shaking loose.
When it comes to keeping up with the pace of an ATV, glass windshields are typically excellent. They are extremely durable and are unlikely to come loose under normal use. The performance of polycarbonate windshields is comparable to that of glass windshields. However, they vibrate a little more than glass windshields. Acrylic windshields are not advised for high-speed driving since they are more prone to become loose as a result of vibration.
6) Windshield Durability
Although they may appear to be comparable to the inexperienced eye, all of these windshield elements have significant variances in terms of strength when compared to the others.
Glass is a durable material. It's still a fantastic UTV windshield choice, but because of its fragility, it requires a substantial metal framework to maintain its position and maintain its rigidity. Thus, glass windshields are slightly heavier than the other materials available for use in windshields. Despite the fact that glass windshields are the weakest of the three materials, they nonetheless have a number of significant advantages. Our glass windshields, in particular, are scratch-resistant, wind- and water-resistant, and they have been certified and stamped by the Department of Transportation (DOT).
Acrylic is approximately ten times more durable than glass. Despite the fact that acrylic can withstand some significant impact without breaking, it is far from indestructible. Regardless of the fact that it is more durable than glass, it is nevertheless susceptible to breaking under the impact of a stone or rollover. The difficulty of acrylic is that it is not laminated or tempered in the same way that glass is, which means that if it cracks, it can shatter. This might be quite harmful to the people who are riding in the car.
Polycarbonate Windshields:
In comparison to glass, polycarbonate is approximately 250 times stronger and 25 times better than acrylic. It's almost indestructible, which is a plus. A polycarbonate windshield can be broken by almost anything, even weapons of small calibers, although you would have to look hard to locate one. In reality, polycarbonate sheets are frequently employed as bulletproof shields in places such as banks, police stations, and other places where a bullet would need to be deflected.
7) ATV Windshield Design:
When it comes to the design of your UTV windshield, you have a few different options to choose from. UTV windshields can be classified into two main categories: those that are full-coverage and those that are not.
A full windshield is exactly what it sounds like: it's a whole windshield that encompasses the whole front of the cab, as the name suggests. This is the most popular type of windshield, and it is also the most practical. Moreover, it protects you from approaching rain and wind, as well as pebbles and other debris that may be going straight for your face. To provide a little more ventilation, some full windshields have vents that can be opened or closed.
As the name implies, a half-windshield only covers the top half of the front cab. It is not as protective as a whole windshield, but it does provide some level of shielding from the wind and rain. Additionally, it can deflect some debris from your face. One downside to a half-windshield is that it does not offer as much ventilation as a full windshield.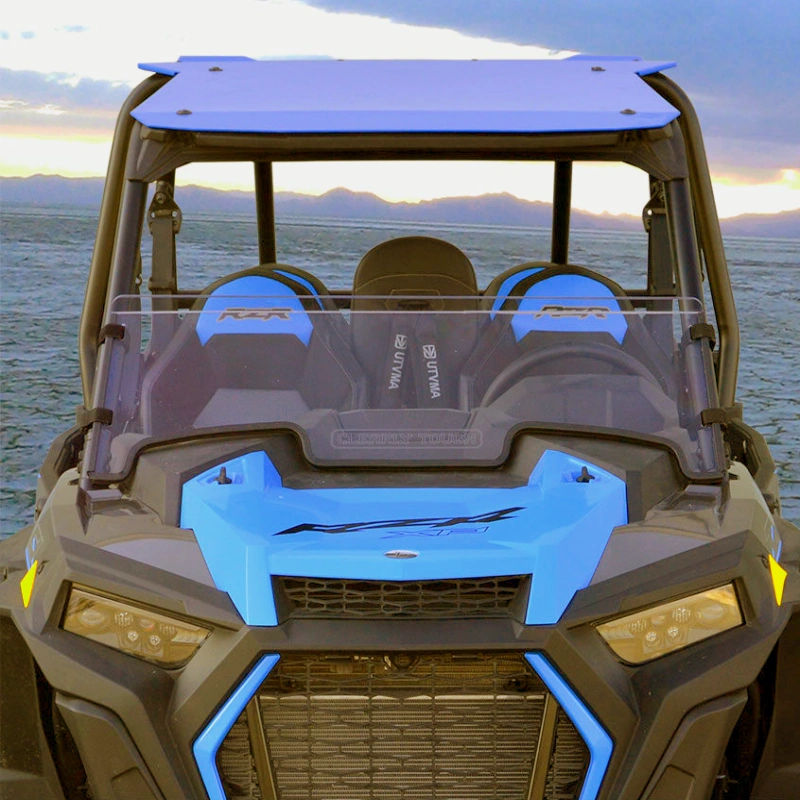 A reverse windshield is one that is installed in the rear of the cab. It's not as common as a full or half windshield, but it does have its uses. For example, if you're driving in an area with a lot of dust or sand, a reverse windshield will protect the occupants of the vehicle from being pelted in the face by debris. Additionally, it can provide some protection from the sun for people who are sitting in the back of the cab.
A flip-down windshield is a type of windshield that can be flipped down when it's not in use. The flip-down windshield is quite identical to the flip windshield in appearance and function. The flip-down windshield works by removing the upper piece of the glass from either the roll cage and sliding it down so that it rests against the hood of your vehicle. A few styles allow you to attach it to the hood, which helps keep it from fluttering around when driving. Additionally, if you're going to be driving at night, a flip-down windshield will provide some extra protection from the headlights of oncoming cars.
Rear windshields provide protection that is similar to that provided by front windshields. When used in combination with a front windshield, these prevent dirt out of the cab and can even remove the dust suction effect. It may also be used in conjunction with other components such as full doors, a roof, and a frontal windshield to completely enclose your cab.
8) Cost:
Naturally, the type of windshield material and its design will have an impact on the price you spend. If you're working with a limited ATV windshield cost, it's critical to understand which solutions will be more expensive than others. Decide the style you require as a first stage in the process. Then which type of windshield do you require? A full windshield or a half windshield. Half-windshields are the most affordable, while full, flip, and flip-down variants are the most expensive. Having selected a UTV windshield type, the next step is to choose which material is most appropriate for your application. The least expensive alternatives are acrylic and polycarbonate without a hard coating. While both materials provide enough strength, take in mind that both materials are far more susceptible to scratches. Due to the premium properties of hard-coated polycarbonate and glass, such as scratch resistance and robustness, these materials are more costly.
Fixing out the scratches on the ATV windshield
Visibility is hampered, and the rider experiences pain as a result of scratches on the windshield. As a result, you must get rid of the scrape as quickly as feasible.
When washing the windshield surface, use a solution of hot water and a non-abrasive cleanser or soap that is not hazardous to plastic.
Now, using a smooth and dry patch of cotton cloth, gently massage the scratch site in the desired direction. This should not be applied while the shield is still wet, so allow it to dry completely first.
You may also restore the appearance of the windshield by applying a polishing compound to the damaged area or to the whole surface of the windshield.
Weight of an ATV Windshield
The weight of an ATV windshield is something that you must take into account when making your purchase. ATV windshields differ in weight, but generally speaking, they are not too heavy. Glass windshields are a bit heavier than acrylic or polycarbonate, but the difference is not significant. Half-windshields and reverse windshields are the lightest variants. The full windshield flip-down is the heaviest option. When selecting a windshield, keep this difference in mind to avoid unnecessarily adding weight to your ATV.
If you're looking for a lightweight option, then you should consider an acrylic or polycarbonate windshield without a hard coating. Alternatively, if you don't mind a bit of extra weight, then a glass windshield with a hard coating is the way to go. Compared to ATV windshield, which weighs between 5 and 7 pounds, glass windshield size and weight are significantly heavier, averaging higher than 20 pounds.
What Are the Advantages of Using a Windshield?
The use of a windshield on an ATV can provide several benefits to the rider, including:
A windshield serves to keep the wind, rain, snow, and dust away from the rider's face, allowing for better sight while on the road.

In addition to keeping wind and dust away from the rider's face, using a windshield can aid to lessen tiredness when driving.

A windshield can assist in lessening the amount of wind noise that is experienced while driving.

When driving, a windshield helps to keep bugs and other pests out of your eyes and out of your mouth.

A windshield may improve the overall appearance of your ATV by adding elegance and functionality.

In the case of a rollover, an extra layer of protection can be provided by a windshield.

It is possible to attach lights to your ATV using a windscreen.

When driving, a windshield can help to keep you safe from flying debris on the road.

As you drive, a windshield can assist in deflecting pebbles and other items that may be thrown up by the tires.
Frequently Asked Questions
1) How can you keep your side-by-side windshield from fogging up?
There are a few things you can do to help reduce the amount of fogging on your windshield. One is to make sure that your windshield is clean and free of any dirt or debris. You can also try using a defogger or anti-fog agent to help keep the windshield clear. And finally, you can install a windscreen deflector to help force the air over the top of the windshield and help prevent it from fogging up.
2) What type of ATV windshield is difficult to scratch?
A windshield made of polycarbonate is the most difficult to scratch.
3) What is the function of a half-window?
A half-window is a windshield that only covers the front half of the ATV. It is designed to provide protection from the elements while still allowing for visibility.
4) What is the difference between a complete windshield and a half-windshield?
A complete windshield covers the entire front of the ATV, while a half-windshield only covers the front half. Complete windshields provide more protection from the elements, but they can also obstruct your view.
5) On an ATV, what can I use as a windscreen cover?
There are a few things you can use as a windscreen cover on your ATV. One is a windshield deflector, which is a plastic or metal shield that mounts to the top of the windshield and helps force the air over the top of the glass. You can also use a dust screen, which is a mesh screen that installs in front of the windshield to keep bugs and dirt from hitting you in the face. And finally, you can use a sunshade, which is a fabric shade that attaches to the roll cage and blocks the sun from shining directly in your eyes.
6) What is the best way to clean a plexiglass ATV windshield?
To clean a plexiglass ATV windshield, you will need to use a mild soap and water solution. You can also use a glass cleaner, but be sure to avoid using anything that could scratch the surface of the windshield. Once you have cleaned the windshield, you will need to dry it off with a soft cloth to prevent streaking.
7) How do I remove scratches from my polycarbonate ATV windshield?
If you have small scratches on your polycarbonate ATV windshield, you can try using a plastic polish or rubbing compound. For deeper scratches, you may need to use a sanding kit designed for plastics. Once you have sanded out the scratch, you will need to buff it out with a polishing compound.
8) What is the difference between a windshield and a windscreen?
A windshield is a piece of glass that is installed in front of the driver and passengers to protect them from the elements. A windscreen is a mesh screen that is installed in front of the windshield to keep bugs and dirt from hitting you in the face.
Eric Riley is a true ATV enthusiast. He has been using ATVs for years and knows his way around them like the back of his hand. He's passionate about what he does, and loves sharing that passion with other people who are interested in learning more or buying their first ATV.