Best Gloves for ATV Riding: Durability, Comfort, and Protection
Riding an ATV is exciting, but it may be deadly if you are not properly equipped. While ATV helmets and boots protect your head and feet, best ATV gloves protect your hands. Durability, comfort, and protection are essential elements to consider while purchasing a pair. Comfortable gloves will help you grasp the handlebars better, while protective gloves will safeguard your hands from injuries during falls or trail incidents.
5 Best Gloves for ATV riding- Review and Recommendation
Here we review the top 5 ATV Gloves in the market based on comfort, durability, budget, and quality. Check out our details product features and other information which will help you to decide the suitable one.
1. Seibertron Dirtpaw Unisex ATV Gloves
Seibertron Dirtpaw off-road gloves are among the best ATV riding gloves. The full-finger products offer maximum performance by protecting your finger against injury while road riding or driving on rough terrain. They are made from Spandex and silicon fabric that is durable and sturdy, enabling them to serve you for an extended time. The products have a loop and hook closure system that prevents them from slipping from your hands while riding. They are versatile. Other than riding, you can also use them for outdoor activities like hunting or gaming, making them an excellent choice for riders.
Features of the Seibertron Dirtpaw off-road gloves
The gloves have a mesh textile that covers the back of the hands, making them breathable.
They have an ergonomic design that enables them to protect the hand from the tips of the fingers to the wrist.
The product has a touch screen recognition function that enables you to operate your electronic devices without having to remove them.
They have an advanced grip print on the palm area.
The gloves are made from silicone and spandex fabric, which dries quickly, protecting you from the discomfort of sweating.
They have TPR impact protection at the back of the hands.
The dimensions of the XS adult size white are 6.89″ to 7.48″.
Sale
Seibertron Dirtpaw Unisex MX ATV MTB Racing Gloves - Full Finger Touchscreen Glove for Mountain Biking and Motocross Black L
Method for choosing the size,according to palm circumference not including thumb(Refer to left size chart. XS(7.1"-7.68",18cm-19.5cm) S(7.68"-8.27",19.5cm-21cm) M(8.27"-8.86",21cm-22.5cm) L(8.86"-9.45",22.5cm-24cm) XL(9.45"-10",24cm-25.5cm) XXL (10"-10.63",25.5cm-27cm)
PROTECTION -Direct Inject Rubber Logos & Graphics Protect the back of the hand and finger knuckles impact from injury as well. especially in the event of an accident. This style of gloves is designed to provide you maximum performance without maximum cost.
COMFORT -Lycra finger Gusset, Lightly padded, Silicone Gripper on ALL Finger TPR Hook & Loop Wrist Closure. Touch Recognition has functioned on index finger tip, Not finger belly.
USE - Designed to be incredibly versatile, these gloves will keep you protected no matter what. From Downhill, Mountain, to BMX Biking and beyond'these gloves will perform in any sport where falls and crashes are common. Suit up and stay safe!
NO HASSLE RETURNS AND WARRANTY - There is a full purchase price refund within 30 days of your purchase if you are not happy for any reason. After 30 days, there is a 1yr full replacement warranty on these gloves for any manufacturing defect.
The Seibertron Dirtpaw off-road gloves are among the best gloves on the market, with a breathable mesh material to keep your hands dry and protected.
2. ILM Alloy Steel Knuckle Paintball Gloves
The gloves by ILM are comfortable and give you value for your money. They have an adjustable velcro closure with a hook and loop to prevent them from slipping off your hands. Their design and arch shape are a perfect imitation of the human hand. They have maximum joint protection, with the finger joints enhanced with anti-collision fabric. The product's hand orientation is ambidextrous, making them a perfect choice for both right-handed1 and left-handed riders. It also has a smart touch function that enables you to operate your phone without having to remove it.
Features of ILM's Alloy Steel Knuckle Gloves
The product is made from high-quality materials that are durable, making them last longer than other brands in the market.
They have alloy steel protection parts that offer you maximum security from injury.
The knuckles are made from anti-collision materials to protect the fingers in case of a fall or collision with any object.
They have an advanced palm cloth that is soft and comfortable, protecting your hand against injuries while riding on rough terrain.
The product is multipurpose, and you can use it for ATV riding, racing, tactical training, and paintball.
The large size gloves' dimensions are 7.9 x 2 x 3.9 inches, and they weigh 0.3 ounces. Their palm width is 8.5–9 cm, with a palm girth of 20–21 cm.
It offers a full grasping range, enabling your hands to work in a natural position.
If you need gloves that offer maximum protection with a fashionable look, the ILM Alloy Steel Knuckle Motorcycle Gloves are your best choice.
3. OZERO Waterproof Winter Gloves
The OZERO gloves are the best winter ATV gloves that offer maximum protection and comfort. They have a waterproof nylon shell with an inner polyester lining, enabling you to keep your hands warm during cold days while riding on rough terrain. The fabric is breathable, which means it does not trap sweat in the gloves. It also has a windproof design that keeps the hands warm in cold weather conditions, making it an ideal choice for ATV riders during the cold seasons. The glove is ambidextrous and can be used by both left-handed and right-handed riders.
Features of the OZERO Waterproof Gloves
It has a high-quality touch screen function that enables you to operate your phone while wearing gloves without having to remove them.
The small-sized glove is a perfect fit for a rider with a 2.95-inch middle finger and a 7.87-inch palm size.
The gloves are made from high-quality artificial suede leather and insulated with a lining to prevent cold air or water from getting into the gloves.
They have an anti-skid design on their palms, which enables you to ride safely even when it is raining.
The gloves have four inner layers, which include a water-resistant, seamless waterproof sheath, artificial thermal velvet, and warm TR cotton.
Their knitted cuffs have rubber bands, making them easy to wear and remove.
Sale
OZERO Winter Gloves for Men Waterproof and Touch Screen Fingers Insulated Cotton Warm in Cold Weather Black Large
Multilayer cold-proof material gives warmest protection - With windproof artificial suede leather shell, OZERO winter gloves are inserted with insulated sponge with thickness of 2mm and breathable waterproof membrane, and lined with soft and thermal TR material, resulting in better comfort and warm.
Full-hand waterproof membrane insert keep hands dry and away from wet and cold - You can dip gloves directly into ice water without worry of getting wet, perfect for the snow and rain weather. Just have fun in winter outdoor skiing, snow shoveling, cycling, snowmoblie, ice fishing etc.
The palms of the gloves are attached with anti-skid silica gel - The gloves can effectively provide your hands good grip for winter sports or work and make you work efficiently, especially suitable for driving and snow ski in winter.
Highly sensitive touch screen goatskin fingertips are stitched on the fingers - Effective touching allow you easily operate smart phone without taking off gloves. In addition, the knitted cuffs of wrists and the rubber bands of the palms make it easy to put gloves on/off.
Gift for Men and Women: Waterproof winter gloves for your daily commute, driving, skiing, working,etc. Winter gloves made with our product technologies keep you warm and dry in cold weather. They are a wonderful gift for your family and friends. Please note: Grasp the fingertips while taking the gloves off for preventing dragging the linings out, because the linings are not sewn with the waterproof sheaths of the gloves for the best waterproof performance.
You do not have to worry about your hands getting wet or frozen during rainy days. OZERO Waterproof Gloves are the best cold weather gloves for ATV riding.
4. COFIT Motorcycle Gloves
COFIT Gloves offer maximum protection and comfort for ATV riders. They have a strong leather shell with an inner lining of durable material to protect your hands from injuries and collisions while on a rough stretch. The inside fabric is soft and comfortable, so you do not feel irritated after long hours wearing them. They are the best ATV gloves because they are versatile and suitable for ATV riding, sports, or fox racing.
Features of COFIT Gloves
The extra-large glove fits a rider with a palm width of 9.5 to 10 cm. It comes in various sizes, enabling you to choose your perfect fit.
The product has pad protection on the palm and knuckles to offer maximum protection for your hands.
The pair of gloves have a hook and loop cuff with an adjustable strap to keep them in place when riding on rough terrain or during cold weather conditions.
The silicon gel on the palm of the glove makes them wear-resistant.
The ATV gloves have air vents that are breathable. The vents allow free circulation of air.
They feature knuckle protection and reinforced seams, which make them durable.
COFIT Motorcycle Gloves for Men and Women, Full Finger Touchscreen Motorbike Gloves for BMX ATV MTB Riding, Road Racing, Cycling, Climbing, Motocross - Black L
Multi-Function: Ideal for BMX ATV MTB riding, road racing, cycling, motocross, climbing, skating etc.
Touch-Screen Fingertips: Contains conductive metal fiber on both Index finger and thumb, the gloves work with all touch screen devices.
Full Protection: With professional knuckles and palm pads protection, COFIT motorcycle gloves greatly protect your hands while fast racing.
Perfect Grip and Control: Wear-resistant silicone gel in palm part increases the grip on motorcycle handlebars to improve driving safety.
Breathable and Year-Round: Made of breathable polyester, with air vents for better air flow, suitable for using at all seasons, best use (50℉-95℉).
COFIT Gloves are versatile and offer a perfect grip, enabling you to have maximum control of your ATV.
5. Kemimoto Motorcycle Gloves
That allows Kemimoto Gloves are made from high-quality leather that offers protection and is durable. They have an elastic cuff with a hook for ease when wearing or removing them. They offer a perfect grip due to their anti-slip design on the palm. The product has a breathable system allowing free circulation of air thus preventing sweaty palms when you are riding your ATV during hot weather conditions.
Features of Kemimoto Gloves
The product has a waterproof gel lining that keeps your hands warm and dry even when it is raining.
Their exterior material is high-quality leather to protect them from wear and tear.
They have reinforced seams on fingers, palms, and knuckles, which makes them durable.
Their elastic cuff with hook ensures they stay in place while riding your ATV.
The gloves have a PVC hard shell knuckle protection to protect your hand from injury during falls or collisions on a rough stretch.
They are breathable, allowing free air circulation inside and outside, preventing the discomfort of heat.
They are touchscreen compatible, enabling you to operate your smart electronic devices without taking them off.
KEMIMOTO Motorcycle Gloves for Men, Touchscreen Cycling Gloves with Hard Knuckle for Outdoor Sports On-Road/Off-Road/Mountain Motorcycle Motorcross Motorbike...
【Hard Knuckle Armor Design】Motorcycle gloves are designed with a hard knuckle, the excellent cushioning effect can effectively resist the impact of sharp objects, and protect your hands from scratches and abrasions during cycling training and riding.
【Touch Capable Material】The first knuckles of the thumb and index finger are made of touchscreen material, so you can use touchscreen devices without taking off your cycling gloves, which is very easy and convenient.
【Tough and Anti-slip】Riding gloves are built with double-stitch seams for durability and longevity under any condition. The palm padding is made of reinforced double-layer synthetic leather with anti-slip mesh, which can enhance grip and palm protection.
【Breathable & Dry Design】There are 4 inclined rubber ventilation holes at the finger joints that can quickly dissipate heat and be waterproof, keep your hands cool all the time, and wide suitable for outdoor sports cycling riding motorcycle motorcross racing dirt bike ATV UTV.
【Easy to Use & Why Choose Us】Choose the motorcycle gloves that fit your palm according to the size chart. At KEMIMOTO, we fully stand behind our motorcycle gloves. If you don't 100% love our cycling gloves, please don't hesitate to contact us, and we will provide you with the best solution in time.
Kemimoto Gloves provide a perfect grip that gives you maximum control over your ATV during bumpy rides or in cold weather conditions.
Buying Guide For the Best ATV Gloves
Whether you choose summer, winter, or all-weather ATV gloves, you should consider the following factors when selecting a pair:
Cuff length is the distance from the base of your palm to where your hand meets your wrist. Gloves that are too short will cause discomfort when gripping the handles, while gloves that are too long can get in the way and affect steering. Your cuff should fully cover a large portion of your forearm with a comfortable fit for all-day riding comfortability. That way you won't have to take them off often and the gloves can keep your hands safe from debris on the trail.
When riding through different terrain, the gloves become prone to wear and tear. The more abrasion resistance they have, the longer your gloves will last. Abrasion resistance is the ability of a material to withstand wear from friction. Gloves with this feature are ideal for ATV riding because they can handle a lot of scratching and digging without fraying or breaking apart.
The front of the glove between your fingers is extremely sensitive. You need proper protection for this area to prevent injury from rocks, debris or other obstacles on the trail. Front side protection properties are what keep your hands safe while riding an ATV through challenging trails. The best ATV gloves have protective cloth on the front side that absorbs impact shock, allowing your hands to stay safe while riding.
When riding off-road, there is a chance that you will fall and hit your hands on rocks or other objects. To protect yourself from the impact of such obstacles while staying comfortable, look for gloves with backside protection properties. These ATV riding gloves have shock-absorbent textile placed in between the outer shell and inner lining to cushion impacts if you hit the ground. They also have it over the knuckles and other sensitive areas of your hand.
How would you feel if you were on a thrilling ride and your gloves got torn? You would be vulnerable to injury from rocks, and debris. Durable ATV gloves are crucial for protecting yourself when you drive through challenging conditions like mud, snow or water that can get in the way of steering an ATV with ease. Any glove that is not durable will fray easily from being exposed to sharp objects or from normal wear and tear. It is best to select durable gloves that can serve you for an extended period to enable you to realize value for your money.
A waterproof glove does not allow water to penetrate the textile. It is a great feature allowing you to ride through water or get exposed to wet conditions. Cold weather ATV riding gloves keep your hand dry and comfortable when driving in challenging weather conditions that could make it difficult for you to grip the handlebars well. Waterproof gloves are made from thick materials like neoprene, Gore-Tex or nylon that prevent water from seeping into the gloves. They keep your hands comfortable and dry when riding through challenging, wet conditions.
Your comfort is a priority when you are riding an ATV. An uncomfortable glove can interfere with your ability to steer the vehicle and hold the handlebars securely, resulting in a dangerous situation for yourself as well as others around you. Comfort is more than just having a glove that fits perfectly snug on your hands. It is about being able to wear them all day without feeling any pain or discomfort. The best gloves allow your hands to breathe, keeping them dry from sweat while still providing a secure hold on the handles of your vehicle.
Buying riding gloves that are a perfect fit for your hand is crucial for your comfort while driving an ATV. Gloves that are too tight are uncomfortable, making it harder to steer the vehicle with ease. Also, loose ones might fall off or slip out of your hand when you need them most. You should select a glove size that fits well and is not restricting in any way. To get the perfect fit, you need to look at the size chart provided by a manufacturer before selecting a pair of ATV gloves.
A breathable glove allows free air circulation between your hand and the glove. It prevents heat from building up inside the gloves, preventing them from becoming sweaty or too tight on your hand while you ride an ATV through a challenging stretch. Breathable gloves are made with mesh or perforations that provide a barrier from elements but still allow your hands to breathe. They are great for hot weather and can keep you comfortable when riding an ATV in sunny conditions.
You wouldn't want a heavy glove when riding an ATV, right? You need something that is lightweight and does not add to the overall weight of your vehicle. Heavy ATV gloves make you feel uncomfortable while driving off-road for extended periods of time. However, lightweight ones weigh less and do not affect how well you steer or handle an ATV in challenging terrains. The product should be made from a lightweight material like polyester, leather or nylon.
Styles and colors of gloves vary from one brand to another. You should look for the best styles that make your hand feel comfortable when driving an ATV, even in hot weather conditions. Colors are important if you want to be seen clearly by other traffic participants or pedestrians around you at night time while riding on public roads with your ATV. The best colors for ATV gloves are those that are bright and can stand out clearly in dark conditions.
The price of ATV gloves depends on their quality, durability and comfort. You should check the cost of a particular pair before buying to get value for your money. You need those that are affordable and durable so you do not have to replace them frequently.
Materials for both hot and cold weather ATV gloves
You should look for gloves made from advanced and durable materials that offer great protection to your hands. The fabric should be thick enough to prevent injuries from occurring in case of an accident or bump with another vehicle on the road. It should also be strong and long-lasting to prevent frequent replacement. Leather, nylon and polyester are some options that you can consider.
ATV Gloves Come in a Variety of Styles
1) FULL-FINGERED GLOVES
Full-fingered gloves are the best for riding an ATV because they protect your hands from injuries. They have full-fingered designs that fit snugly on your fingers to prevent them from slipping off. They also have durable stitching and closures that keep them secure even at high speeds. They are designed with a palm area that is made of leather, rubber, or another durable material to enhance the grip when driving off-road in any weather condition. The product is thick enough to provide insulation for your hands to keep them warm. They have slip-resistant fingertips that provide you with a firm grip on the handlebars.
2) FINGERLESS GLOVES
Fingerless gloves are the best ATV gloves for hot climate riding as they keep your hands cool and dry. They have breathable backings that allow air to pass through them to maintain a comfortable temperature. They are also made from lightweight materials like nylon or polyester, which provide quick-drying capabilities so you can wear them again after washing. The product is designed to fit the whole hand without covering the fingers. They are made from nylon, cotton, or leather to provide a better grip on the handlebars while driving in any weather condition. They have slip-resistant fingertips that offer you improved steering control when riding your ATV over uneven surfaces and through muddy areas.
The Advantages of ATV Gloves
1. Avoid hand injury:
For your protection and safety, you should wear gloves while driving an ATV. While riding, you can get involved in an accident that could lead to bruises on your hands. You could also get blisters and sores from long-distance riding or hitting bumps. The product provides protection against these injuries by covering your hands and offering ample cushioning to prevent them from getting injured. A hand injury is vital as it can affect your ability to ride an ATV correctly and comfortably. Therefore, you need to wear protective gear to keep yourself safe from injury.
2. Improved grip:
The best ATV riding gloves provide an optimal grip that enhances your ability to handle an off-road vehicle. They are made from polyester, leather, or nylon materials and offer an improved grip that enables you to have better control of your vehicle. The improved grip enhances how well you steer on smooth surfaces, climb hills with ease, and stop or brake when needed.
3. Versatile:
You can use them for a number of activities, including horseback riding, skiing, biking, and dirt bike riding. You can wear them while working in your garden or doing household chores to protect your hands from injuries. The versatility allows you to use the same pair of work gloves as well as during off-road driving on public roads with your ATV.
4. Maintain a warm and dry environment for your hands:
A perfect ATV glove keeps your hands warm and dry during cold days. It also provides insulation against hot weather conditions by keeping your hands cool and dry. Thus, you prevent blisters from occurring on the palms of your hands. While driving, your hands need to be dry to maintain a firm grip on the steering wheel. The best ATV riding gloves provide a warm and dry environment for your hands.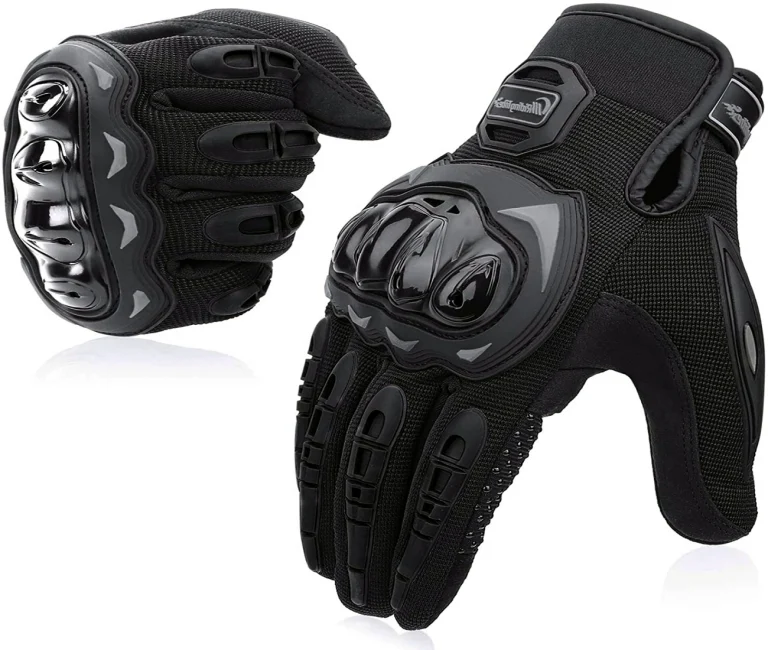 Frequently asked questions
1.When should you wear gloves?
You need to wear gloves when riding your ATV. It protects your hands from injury while also providing a firm grip for better control of your vehicle. You should also use them when engaging in other activities like hunting, gaming, racing, biking, or horseback riding.
2. Why should I put on gloves?
Your hands are the most exposed part of your body when driving an off-road vehicle. If they are not covered by protective gear, you can easily injure them during a fall or bumpy ride. Wearing proper protection for your hands is vital as it will prevent injuries like blisters, cuts, abrasions, and fractures from occurring. It will also enable you to keep your hands dry and warm even when riding in harsh climatic conditions. The best ATV gloves also help you maintain a firm grip on the steering wheel, allowing you to have better control of your vehicle.
3. What characteristics distinguish a decent pair of ATV gloves?
A decent pair of ATV gloves features a sturdy and durable design that does not wear or tear easily. It should also be made from a breathable material to keep your hands dry even during winter conditions. They have slip-resistant palms for improved steering control while driving off-road. They are a perfect fit to prevent them from slipping off. The product is made with good quality material that does not wear or tear easily when exposed to rough conditions or during falls and bumps while riding your ATV.
4. How do you determine the size of your riding gloves?
To determine the perfect size, measure the width of your dominant hand at its widest point. Make sure to check if the size falls within the range provided by the manufacturer for an accurate fit. You can also consult online sizing charts or ask a riding enthusiast or dealer for tips on choosing the best ATV gloves that are designed with your measurements in mind.
5. Is it normal for gloves to be too tight?
They should not be too tight. When they are tight, they will not provide the optimum fit for your hands. They may also be uncomfortable and difficult to wear while driving your ATV off-road. Products that are too tight can cause blisters on the skin of your fingers, which is painful and inconvenient during riding or other activities like hunting or racing, where you must have a firm grip on the steering wheel.
6. Can ATV gloves be used for other outdoor activities?
Yes, they are versatile, and you can use them for outdoor activities like gaming, horseback riding, biking, or racing.
7. How do I clean my gloves?
Cleaning your ATV glove is a simple task. It depends on their material. For example, to clean a leather glove, you need to use a damp cloth and wipe it dry. You may also clean them with leather cleaner or polish if necessary. An all-purpose cleaning solution is the best option for nylon, suede, or other synthetic materials, while you can use water to clean those made from cotton. Avoid using chlorine bleach as this will damage the material of your gloves.
8. How do I determine the proper size?
You need to measure the size of your hands to determine your glove size. To do that, measure the circumference of your dominant hand at its widest point. Make sure to check if the size falls within the range provided by the manufacturer for an accurate fit.
9. Is it true that all of these gloves are waterproof?
Not all of them are waterproof. Waterproof ones are those made from material that does not allow water or moisture to penetrate. These include gloves made from rubber or other synthetic materials.
ATV gloves offer extra protection and keep your hands warm during cold climate conditions. They also enable you to have a perfect grip and more control while riding your ATV. It is best to select an ATV glove that is a perfect fit for your hands. It should also be durable, comfortable, and versatile for riding and other outdoor activities. You also need to be careful when selecting gloves, as some company reviews are not true. Yet, people are compensated for referring traffic and business to these companies, and they earn advertising fees by advertising low-quality products. The best pairs of gloves are those discussed in this article.
Eric Riley is a true ATV enthusiast. He has been using ATVs for years and knows his way around them like the back of his hand. He's passionate about what he does, and loves sharing that passion with other people who are interested in learning more or buying their first ATV.